Aluminium Coated Fiberglass Fabric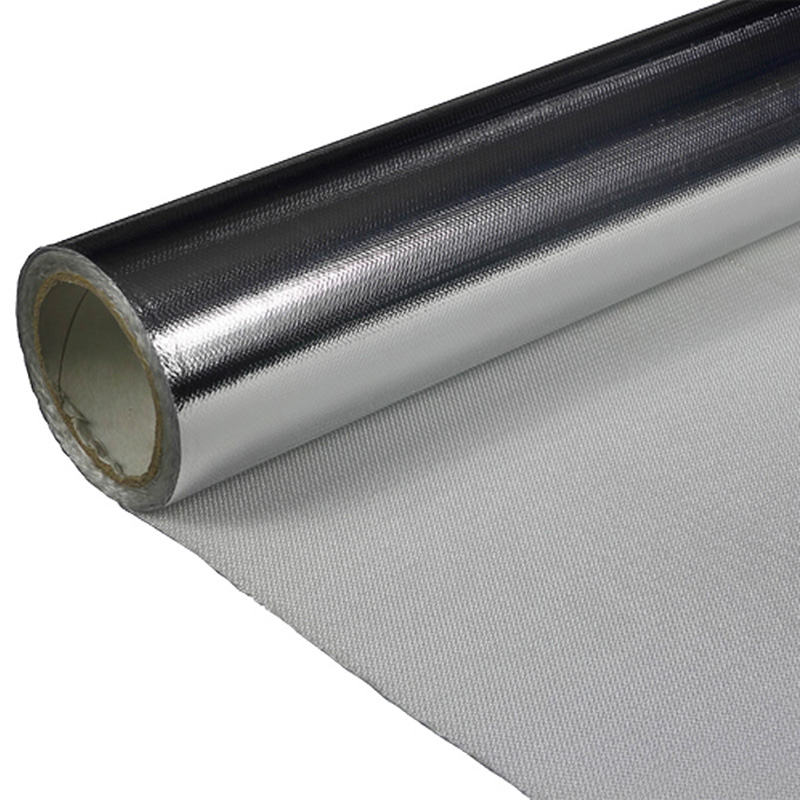 Aluminium Coated Fiberglass Fabric
description
Unitex Aluminium Coated Fiberglass Fabric is produced by Filament Fiberglass Fabric or Texturized Fiberglass Fabric with Aluminium coating. It is processed uniquely advanced compound processing and special fire-resistant adhesive agent laminated with 4 types of foil with difference advantage.
I)Aluminum foil (AL): available in 10, 18 & 25 micron, withstand to 170°C contact heat, higher resistance after initial exposure, high heat radiation reflection and Flame proof but not good at in anti-friction.
II)AL-PES Foil (AF): It is one-sided lamination of polyester foil vapor-barrier with Aluminium, It has good thermal radiation reflection capability, Good media resistance, gas-tight and Maximum contact heat approx. 180 °C – 200 °C, good flexible, anti-friction, heat reflection but not flame proof.
III)Aluminum Fire Resistance Foil (AFR): Good in thermal radiation reflection capability, Flame proof and Anti-friction but less flexible than AL-PES Foil and may cause little crinkle.
IV)Aluminum-Pigmented Transfer Foil(APTF): It is excellent in flexible and smooth, abrasion and flex resistance, and good thermal radiation reflection capability. Anti-Friction, Flame Proof and Flexible, suitable for all application.
Aluminium Coated Fiberglass Fabric is widely used in all kinds of high temperature insulation/protection supplication, such as pipe protection, Motor vehicle, construction, chemical, ship building industry, Fire seclusion cover, fire suits.
Typical Fabric List:
Code
Yarn Type
Weave
Weight
Thickness
(mm)
Width
(mm)
(g/㎡)
OZ
AL7628
Filament Yarn
Plain
250
7.5
0.2
1000-1500
AL3732
Filament Yarn
Twill
480
14
0.45
1000-1500
AL666
Filament Yarn
Twill
700
20.5
0.65
1000-1500
ALFW600
Filament Yarn
Checkerboard
650
19
0.6
1000-1500
ALFW800
Filament Yarn
Checkerboard
850
25
0.8
1000-1500
AL3784
Filament Yarn
Satin
900
26.5
0.8
1000-1500
AL84215
Texturized Yarn
Plain
338
10
0.38
1000-1500
AL2025
Texturized Yarn
Plain
650
19
0.8
1000-1500
ALW24
Texturized Yarn
Plain
830
24.5
1
1000-1500
ALW30
Texturized Yarn
Plain
1080
32
1.5
1000-1500
ALW60
Texturized Yarn
Plain
2050
60.5
3
1000-1500
More details and custom size please contact our sales at sales@unitexcomposite.com.